It's Your Audience
Open the door to a better experience.
Online AND In-Real-Life.
Glue video to an artwork to inform or sell.
Features
One Low Price
Simple pricing.
Pay-for-use.
No lock-in.
Success-Only Referral Fee
Referral fees are only due on your sold products. That's a big win-win for you.
Secure Gateway
Payment Gateways by Stripe and Paypal securely manage the payment process for your sales from start to finish and the small Gateway's fee is deducted automatically by them.
Marketing Built-In
Successful businesses commit between 8% and 16% of sales to marketing. Your business is no different. We reinvest a percentage of gross sales in marketing – leaving art sellers to focus on creating or sourcing great content and products!
Its Easy To Add
Just Tap and Glue
Glue your existing video content on vimeo & youtube with a simple tap.
Or Upload
Glue your new, fresh, interesting content directly from your mobile to VooGlue. Inform and sell with an expert description – or a selfie video.
Inform At Displays
Users point their phone at your real-world display and they are shown your glued content which instantly engages them!
They Tap To Buy
Customers at a real-world display tap and buy the products. The built-in payment gateway handles processing – making it easy.
Also Sell Online
Because your glued content may also be online, users anywhere can watch your glued video and buy your glued products, boosting your exposure and sales.
With Social Media
VooGlue is Social Media Friendly. Post links to your own social media. Use your video posts to drive up your engagement.
Grow Engagement
Then, as your audience arrives – grow it! Managed social media commenting is fully integrated. You can answer questions right there on the page.
With Built-In Marketing
We may send your content out to our digital footprint to help drive traffic – as well as doing generic promotions for traffic generation.
Easy Dashboards
Keep track of all your glued content in the one place. Hide or show the locations – depending on privacy desires
This feature is great for users with a distributed physical footprint. Each pin on the map is one of your artworks.
Keep You In Charge
For users with multiple exhibits, manage them all in one place. Spread out your display footprint and keep track of views.
Attract New Customers
Because the VooGlue map may show content locations, users may come to you. This feature is great for tours of public street art with glued video. Create a street art tour!
Its Flexible
So Get Creative
It's also a 'new style' of art – with video glued forever. Get innovative with art creation . Make your video 'expand' your real-world art. Blow the mind of your audience.
Or Glue What Works
Or if sales are slow, change out the glued video to better sell your product, or change the glued product if that's what you want. In the VooGlue dashboard you can mix and match.
Sell Any Product
Sell anything! Any product can be linked to your real-world 2-D object.
Artists, use your art to sell printed products, or any product! Art museums, use your art to sell your gift store items – on-the-spot at the artwork.
And Get Paid Fast
Once payment is cleared by the secure gateway, it is transferred to your bank account at the click of a button in your VooGlue dashboard.
How It Works
Match & Link
Online is easy, but In-Real-Life is where our trackers do all the work. In Real Life your audience simply points their camera at the scene and your content pops onto their screen.
Trackers
VooGlue art trackers are a smart, sticky, digital fingerprint of your real-world display.
Your content will be available in real life and  online.
Pricing - Its unbelievably Good Value!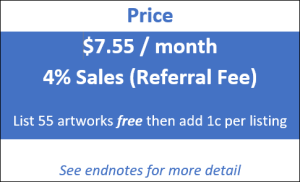 Pricing Detail:  $7.55 per month & 4% of sales. 55 artwork listings can be maintained for FREE, after which a micro fee of 1c per artwork is added. When your artworks are sold & transferred to a new owner they cease to count with your listings – so you may stay permanently below the 55 by selling work regularly. Collectors or art museums can keep 1000's artworks listed and that's when the listing micro fee kicks in and VooGlue becomes an affordable art collection management and archiving platform.