Are you looking for an easy way to showcase and sell your art online, at local cafés, community halls, and other public locations, to connect with local buyers, and for that to be easy?
Try our matchmaking service to find local venues & buyers near you who want to buy or display local art.
How it works
Venues showcase your art at no cost to you and take zero commission on sales. The benefit for venues is finding local artists eager to exhibit their work, drawing more patrons as friends of artists visit and the venue gains a reputation for supporting local talent.
For you, it means the chance to display your art in local venues, grow your local audience, and make sales with no commissions.
Buyers also asked to be notified because with so few galleries there is a lot of art that is 'hidden' they may like to buy, and that's where we come in for both venues and buyers.
We maintain a database of venues and buyers, and each week we send them notifications of new art near them. The matchmaker will show you the number of venues and buyers we have listed near you.
Using the matchmaker is simple. Enter your address, and we'll scout nearby venues. It doesn't matter if you're a hobbyist or a pro; this program is open to all.
Then upload images of your art for venues and buyers to see. Venues can invite you to exhibit. Buyers can purchase online or contact you.
Click Matchmaker to check for venues in your area, or read on for more information.
"VooGlue connects artists and venues seamlessly. They showcase my art, no commissions. Win-win!"
Click Here for Matchmaking: Artists with Local Venues & Buyers
Set Yourself Up To Display And Sell Art At Local Cafes And Other Venues And To Local Buyers.
Maybe you already have art hung in a cafe, maybe this is your first time. With VooGlue you can start or expand your venue footprint since many different types of venues showcase local art when it's managed professionally, and we handle that part for you.
We make selling art at cafes and other locations easy and fun! With a single click, we produce professional art wall didactics for you that encourage the engagement of passers-by – and sales. Our AI art description generator produces professional artwork descriptions for you instantly – saving huge amounts of time, and our AI pricing assistant gives you confidence – so when people take an interest in your art, they become even more engaged and likely to buy. To buy, they can call you, or buy from their phone! And when someone buys – what a thrill it is to receive the SMS sale alert – we do that for you too!  At last, someone is making the artist's life easier – we are! Hang your art, then 'set and forget because the weekly updates via email we send will keep you informed of the number of people who take an interest in your art so you know what's going on.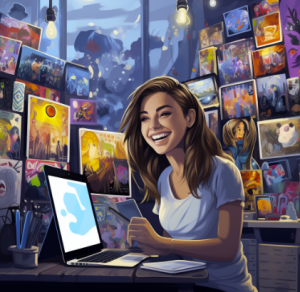 "VooGlue heped me increase my sales at a new display location"
Or check the matchmaker first
Save Time & Enjoy Adding Art Info with Suggested Pricing & Descriptions
Perfect Art Descriptions. Writing artwork descriptions can be a daunting task for many artists. That's why we've developed "Juniper", our advanced AI Art description generator, to make it fun and exciting. With just a few details about your art, Juniper generates professional descriptions that effortlessly capture the essence of your artwork! It's such a thrill to see the professionally written description appear with no effort from you. Say goodbye to struggling with finding the right words and save valuable time!
Discover the power of our AI Price Assistant – a game-changer for artists struggling with pricing their work. With just a few details, it calculates fair and competitive prices, empowering you with confidence in your artistic journey. No more uncertainty; just embrace the right value for your masterpieces.

"For the first time ever I am really confident with my pricing"
Or check the matchmaker first
Present Your Art Professionally With No Extra Effort!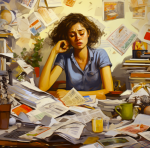 Instant Professional Didactics. No more handwritten didactics or DIY attempts – taking your time and stress energy! Our professional, instant Smart QR Didactics are designed by art experts – you simply print them on demand! They will redefine the way your art is received! Each didactic features a QR code that invites visitors to explore your artwork in-depth and to purchase directly from their phones. It's a great experience for your audiences, and so easy. No need to cram all the information into the didactic itself! Let our QR code didactics make your life smoother, providing a seamless and convenient experience for your new followers.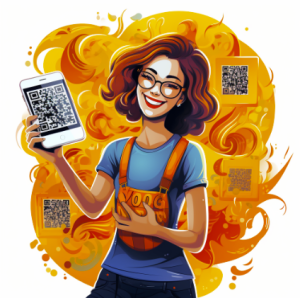 "Revolutionized my art displays! The QR didactics are a game-changer."
Or check the matchmaker first
Seamless Sales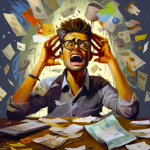 Built-in Sales Transaction Processing – Handling cash transactions can be awkward and risky, so just wait till you experience how smooth and easy our seamless payment processes are! They are completely hassle-free. After buyers pay by scanning the QR code on their phones, we instantly send you a complimentary SMS alert – so you can give the buyer a call and connect.  It's so slick, professional, time-saving and convenient. It's a win-win situation, ensuring a seamless sales experience for you and your customers.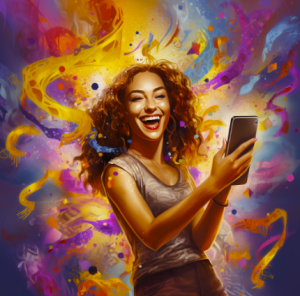 "Streamlined sales process, no more hassle with cash! The SMS alert is a lifesaver."
Or check the matchmaker first
Set And Forget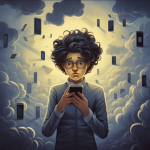 Engagement Insights. Artists used to be blind to what happened when they left their exhibits. Are people looking at the art? Is it a good location? Our systems fix all that. We track views & interactions, then you receive a weekly report!  Without any extra effort, you will stay up to date about your artwork's performance. Additionally, our platform provides a tracking code for the rear of your artwork, ensuring future resale royalties are properly accounted for.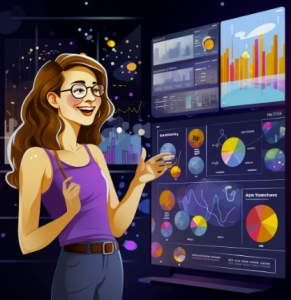 "Finally, I know what's happening with my art after it's hung. The weekly reports are a game-changer."
Or check the matchmaker first
Sell Online
One Entry May Channels.  Selling your art online has never been easier with VooGlue. Our user-friendly platform simplifies the entire process, from creating professional art descriptions to setting up seamless payment transactions. With just a few clicks, you can showcase your artwork to a global audience, engage potential buyers with our AI-generated descriptions, and even receive SMS alerts when your art sells. Say goodbye to the complexities of online selling – VooGlue makes it effortless for you to share your passion and monetize your creativity.
"VooGlue transformed online art selling for me. The AI descriptions and SMS sale alerts make it a seamless experience. It's like having a personal art-selling assistant. Thanks, VooGlue!"
Or check the matchmaker first
Revelationist Art
Extend your art practice into multimedia.  Elevate your artistry and experiment with new styles by embracing the power of VooGlue's Revelationist Art. This innovative feature empowers you to seamlessly combine multimedia elements with your art, enriching your creations with deeper layers of expression. Whether you're venturing into new artistic realms or enhancing your existing pieces, VooGlue offers you the freedom to create traditionally or incorporate multimedia elements at your discretion. Take your art to new heights and captivate your audience by utilizing VooGlue's revolutionary tools to explore a fresh dimension in the world of art.
"As an artist, I've always been drawn to experimenting with new styles and techniques. VooGlue's Revelationist Art has been an absolute game-changer for me. The ability to seamlessly blend multimedia elements with my traditional art has given my creations an entirely new dimension. It's like my canvas has come alive, telling a richer story through layers of visuals and sounds. Whether I'm creating something entirely fresh or enhancing my existing works, VooGlue has provided me with endless possibilities to express myself. This tool has truly taken my artistry to new heights and allowed me to connect with my audience in ways I never thought possible."
Tim's Success Story
Take Tim, for example. Using VooGlue's Smart QR Didactics, Tim experienced a significant boost in sales. By displaying his art at a local venue with the QR code didactics, he sold multiple pieces in a single day. The convenience and accessibility of the QR codes attracted buyers and made the purchasing process effortless, plus Tim sold some work online with no extra effort. Tim's success story is just one example of how VooGlue can help artists like you thrive in the art world.
About VooGlue
Our mission is to empower artists and participants in the fine art value chain by providing innovative tools and technologies. With our patented and trademarked platform, we bind authentic information to art, increasing its value and delivering benefits to artists, art owners, and art resellers.
Are You Ready To Save Time And Get Your Artistic Journey Really Moving?
"I was amazed by how easy it was to showcase my art with VooGlue. As a first-time user, I had my doubts, but the platform exceeded my expectations. The QR code labels made it convenient for visitors to explore and purchase my artwork, and the instant SMS alerts kept me informed about every sale. VooGlue has truly elevated my artistic journey."
Unlock Your Artistic Potential with VooGlue's 'Pro' Level
We understand the pain artists face in getting their work noticed and appreciated. That's why we offer the incredible value of our 'Pro' level at an insanely low price of $8 per month. It's less than the cost of a cup of coffee, but the benefits it brings to your art career are immeasurable. It's not just a mere platform subscription – it's a gateway to creative freedom and success.
Big discounts on these prices are also offered inside!
But wait, there's more! We also have a fantastic FREE level! that allows you to experience the core features of VooGlue without any cost. It's a perfect starting point for hobbyists and artists who want to explore the platform.
With our 'Pro' level, you'll have access to all the features and tools you need to showcase and sell your art effortlessly. Unlimited didactics and descriptions, the ability to add as much art as you desire, online and cafe sales opportunities, comprehensive reporting tools, and so much more await you.
Experience the joy of leaving behind the struggles and limitations. Embrace the boundless possibilities of your artistic journey with our 'Pro' level. It's not just a platform, it's the catalyst that propels your art to new heights!
"I couldn't believe the value I got with the 'Pro' level! For just $8 a month, I have access to tools that have transformed my art career. It's not just affordable, it's a game-changer."
Elevate Your Artistic Journey with VooGlue: Simplify, Engage, and Thrive!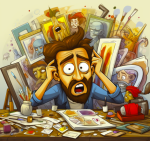 It's time to make adding art to a platform easy and fun! Let our AI art description generator help with writing your professional artwork description, and our AI pricing assistant gives you confidence in pricing – you will be amazed at how much more rewarding that is. Then it's one click for professional wall didactics – featuring a neat-looking QR code, that invites passes by to take more interest. And when someone buys, what a thrill it is to receive the SMS sale alert on your phone! You can set and forget and receive a weekly update via email showing the number of people who took an interest in your art. And you can begin with the matchmaker. It really is revolutionary.
Are you ready to show your art beautifully and professionally at any place you wish and have a lot of fun doing so? Learn more using the matchmaker.
or for full access now complete the form below.
Artist-Venue Matchmaker & Art Didactic Maker
"VooGlue's Smart QR Didactics are proven to stimulate sales"

— VooGlue Team
Matchmaker & Didactic Policy – Your details are private unless you decide otherwise.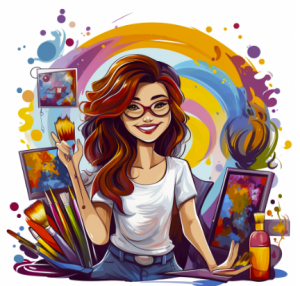 Where the imagery and feedback on this page are not attributed it is illustrative.